Since first jumping over the fence of an English racetrack at the age of 8, Peter Morley has been a devotee of everything to do with thoroughbred horse racing!
Migrating to Australia at age 11, he just about grew up at the races, and at the age of 21, he followed in his father's footsteps by becoming the youngest licensed bookmaker in Australia – a successful business he ran for 5 years.
Another event that happened at 21 was to be more life changing than Peter could ever have thought. He actually laid hands on his very first thoroughbred and was soon voluntarily working in stables, learning as much as he possibly could about this most noble of beasts.
With a voracious appetite for racing, it was only natural that he should eventually become a racehorse owner. The first winner arrived courtesy of a lease arrangement with a good friend and was highlighted by a sizeable betting plunge, which came off on July 15 1993 courtesy of the bonny mare "Trismic"!
A short stint as a hobby trainer soon beckoned and Pete trained his first winner in 1994. It was a costly exercise however, and a tough grind without "real" money to buy quality stock. Whilst getting the urge to own more horses, Peter decided there had to be a better way … Always being a true entrepreneur, he carried out his due diligence and set up business in the syndication game, testing the water with a cast off from Australia's biggest stable. Without a win-but with five exciting placings including one by a short half head, it was an enjoyable time meeting many new, like-minded people (some of whom are still clients and friends today), and the business now known as Belhus Racing Stables was born from humble beginnings.
Twenty one years and a whole host of winners later, Peter has been at the forefront of a movement to change racing from "the sport of Kings" to the "the sport of the people"! He has gained the recognition of his industry peers by becoming one of the most successful and longest standing syndicators of racehorses in Australia, and is known as "The Racehorse Syndication Specialist".
In a business where thoroughbreds often change hands for big money, Peter has given the opportunity to thousands of people to own a share in a quality racehorse for a fraction of the cost of the whole horse. Success on the track has not only been frequent, but has been achieved at the highest level with Peter's syndicated horses winning at Group 1, Group 2, Group 3 and Listed levels. This prolonged success, coupled with Peter's motto of "people go where they're wanted and stay where they're appreciated", has seen Belhus Racing Stables flourish to become a benchmark for the industry.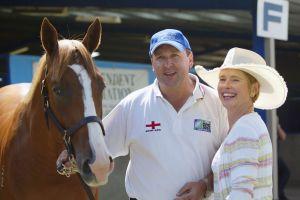 With a reputation of being an honest and trustworthy operator with excellent communication skills, Peter is one of just a handful of people in Australia who only syndicate horses for a living-a true professional in the industry. Not only does he have over 200 clients in his various racing syndicates and partnerships, but he also runs a small agistment centre for the Belhus syndicated horses, rides his own warmblood gelding, is the Immediate Past President of the Western Australia Racehorse Owners Association, and also holds a Permit To Train too! For Pete, horses aren't a part-time sideline-it's his whole income-his whole working life!
Peter's enthusiasm and vision for the future of horse racing is very contagious! His straight forward advice and opportunity has bought countless people to the racecourse both as owners and invited guests, and has put well over a thousand of them right where they wanted to be – In the Winner's Circle!
There's no doubt that owning a racehorse can be one of the most pleasurable things that you can ever do in your entire life. Whether you take up the challenge yourself, with friends or you're happier to join a syndicate or partnership with Peter after you've learnt more about him, you'll find horse racing an interesting, rewarding, emotional and stimulating experience! So read on, absorb some or all of the information on this website, and get set to benefit from the knowledge of one of Australia's most successful racing entrepreneurs – Peter Morley!
Pete, I've gotta say-you are as honest and as true as ever a man I've met. -Jenny Cleary-Adelaide
"Pete, what a great social function you put on the other night. You were in career best form! The jokes never stopped coming, the BBQ was unbeatable, and Chas on the guitar was great! Seriously, you can't buy entertainment like that"! - Paul and Mary Mandelt Hillarys WA.
"Pete. What a fantastic few days of racing. To win on Saturday, then back up and win on Melbourne Cup Day is pretty special. They say patience is a virtue, and Mexican Mist has proved that to be true. We are so glad we stayed the course with the horse and all credit to you and the team for having faith in him. You've done a terrific job. Thanks again for having us along for the ride." - Alex & Sandy Purdon
"If you've got a bit of spare cash, what better way to enjoy yourselves than racing a horse with Peter & Karen Morley"! - Brian Leaning-Mizen