Get Involved
HORSES AVAILABLE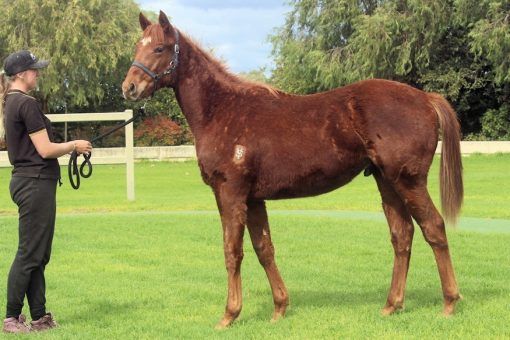 1 Year Old Chestnut Colt
Owners: Belhus Racing, R Wood, R McInnes, B Notley
Price: $2,120 per 5% share
Incentives:
It's not very often that we buy a horse at the weanling stage to offer for syndication, but I just couldn't resist this offering from the Magic Millions Winter sale!

He's a colt by Gingerbread Man from First Game, and considering that I bought his older full brother (now a 2 year old) for $75,000 at the Magic Millions Yearling Sales just a few months earlier, I wasn't going to let this one slip buy and let someone else buy him for a lot less!

It took $20,000 to buy him and he was the top priced weanling at the sale, and it's no wonder that he was popular. His successful pedigree backs up his athletic physique, he's got good leg conformation, has a nice easy going nature, and is well grown for his age. He's a windsucker which is considered a vice, and in my opinion is the reason why he was offered as a weanling to start with (vendors generally don't like offering windsuckers at yearling sales as it adversely affects their overall results). Although that might make him more difficult to place after he's finished racing, it means that we got him for pretty much half price, and it certainly shouldn't have any effect on his racing performance (the legendary Kingston Town was a windsucker!).  All in all, we're delighted to have secured him at that price to race in the Belhus colours, but even more delighted to have him trained by Martin Allan.

Brochures are now available on request.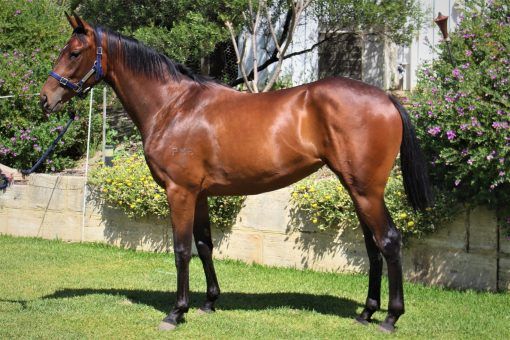 3 Year Old Bay Filly
If it's a staying bred filly that excites you, then take a look at 'So In Love'.

This new season 3 year old filly is by the grand European stayer ILLUSTRIOUS BLUE who was good enough to win 10 races, 4 times at Group and Listed level and was a durable racehorse winning from 1400m to 3200m, including a top ten finish in the Melbourne Cup! The dam of So In Love, Red Geisha was also pretty durable too winning from 1200m to 2040m including at Moonee Valley. So In Love is a full sister to Deep Purple who was good enough to win twice over 2400m in Victoria, so importantly, we know the cross works with this breeding.

This is a 20 share syndicate priced at $1,650 each, which includes the share in the horse, breaking in, and all other acquisition, transport and holding costs incurred to October 1st 2021 which, to be fair to everyone, is the date that syndicate fees commence on for all owners irrespective of sign up date.

The fees are set at $220 per calendar month (billed quarterly in advance) and are budgeted to include all normal and expected costs associated with racing a horse including training, agistment, farrier, transport, vet bills, incidental expenses, syndicate admin and management. Insuring your share is optional. In fact, with the exception of  possible feature race payments and interstate travel (which are bills you want because it means that you've got a very good horse!), there's nothing else to pay!