'Gentleman' John Price has been training racehorses since he was a teenager back in Kalgoorlie, and that's a fair few decades now!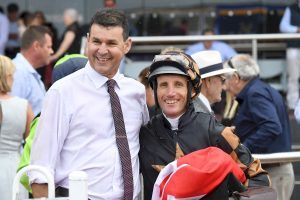 His horses have won at the highest level, and more often than not, he always has a good horse in his stable. As he's got older though and is starting to wind down his numbers, there's nothing that John loves more, than to be poking around at yearling sales trying to pick a bargain for his small, but select number of clients including Belhus Racing Stables and Grand Syndicates.
John sees more into horses than most other people do. Anyone with a good eye can go to the yearling sales and pick the big, imposing, well presented horses with essentially correct conformation, it's pretty much the easiest thing in the World to do if you know what you're looking for, but John does better than that. Much better in fact. With an eye for thoroughbreds that's been carefully honed over forty years and more, he can decipher angles, pick out potential stress points, and identify whether certain aspects of a young horse's physical make up will pose a problem, or it can be confidently overlooked. And history proves that he's right more times than he's wrong.
One such example is Laquetta's Gift, the diminutive filly with a heart like a lion, and who walks in front like Charlie Chaplin, and who today won her third race from just 10 starts. Seriously, she's knee high to a grasshopper, there's almost nothing of her, she toes out in both front feet, and I suspect that John's bid of $6,000 was the only bid after the auctioneer opened her himself at five. But John loved her forward moving 'get on with it' attitude, and pointed out that small horses who naturally don't weigh much can get away with minor conformation defaults in front, unlike the bigger, heavier horses, who's extra weight adds a burden to a potential injury site, and can be a significant risk. And how right he was, as Laquetta's Gift is now on course for an attempt at the WA Oaks.
John's purchase of the three time Group 1 winning BEHEMOTH is legendary in racing circles, and the list of winners he's purchased for us over the years is extensive. So when we mention in the sales spiel on our websites, and in the brochures, that "this one's been selected by John Price", it may pay you to take heed!