Here's How To Get Yourself In The Winners Circle Without Having To Spend A Lot Of Money To Do It…
Everyone wants to own a winning racehorse. You too right? Of course you do 'cos it's great fun! There's the hope, of what lies ahead, the anticipation, the fashion, the prestige of going to the races as an actual owner and not just as a member of the general public, the cheering for your horse as it stretches out to the line, and of course, getting to bask in the glory of that most hallowed of places-the place where we all want to be-IN THE WINNERS CIRCLE! There's nothing like it. A good horse can change your life you know!
But what if the horse you own doesn't win? What if it gets injured? What if it's slow? There's a thousand and more things that can go wrong with racehorses, and most of them cost money. There's the training fees, the transport costs, the farrier, the feed merchant, the vet bills, and the list goes on and on! It's a pretty expensive game to be involved in, and unless you've got very deep pockets, owing racehorses isn't for the faint hearted.
But what if you don't do it? Could you be missing out on some of the best times of your life?
Moments like this,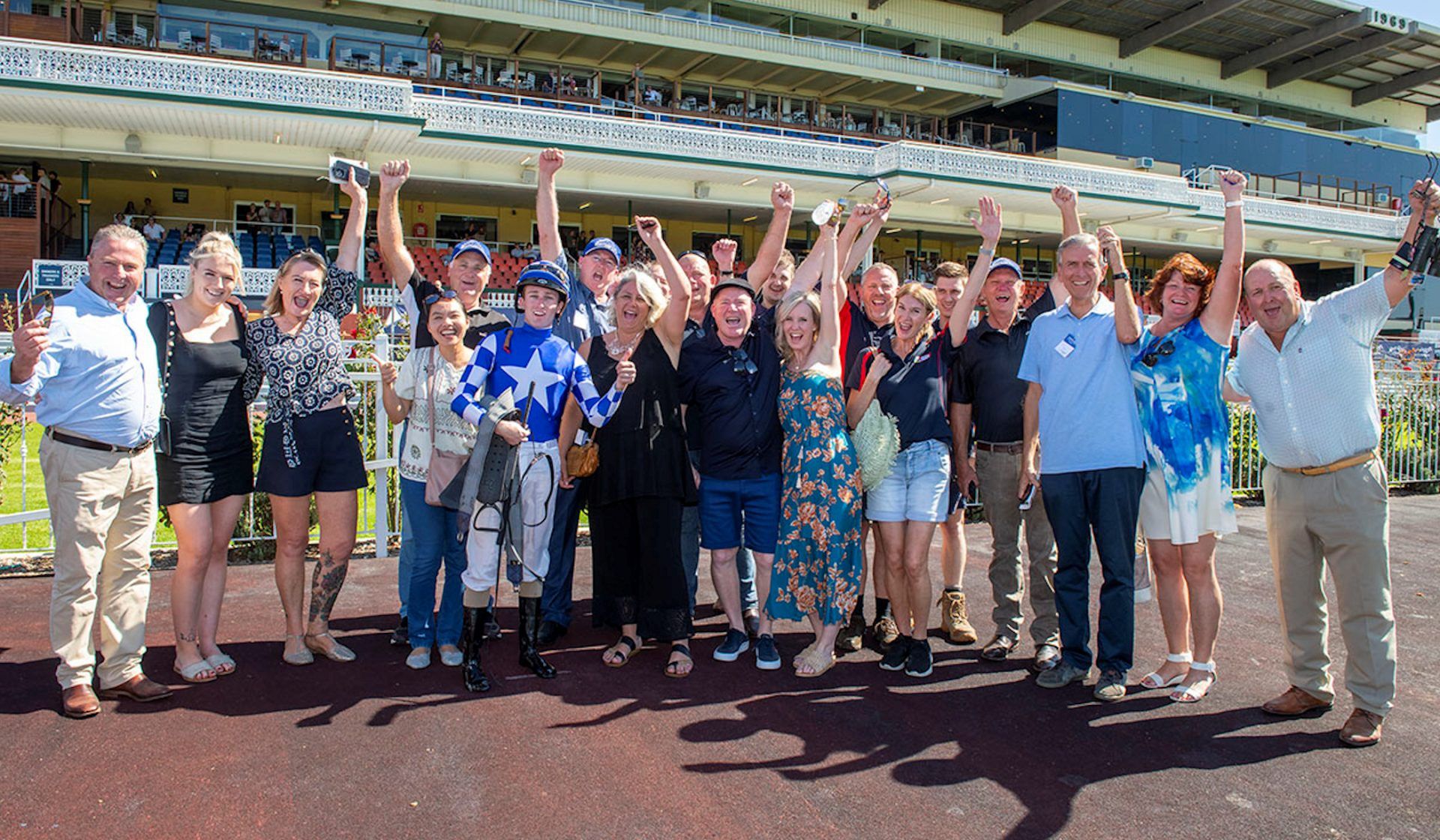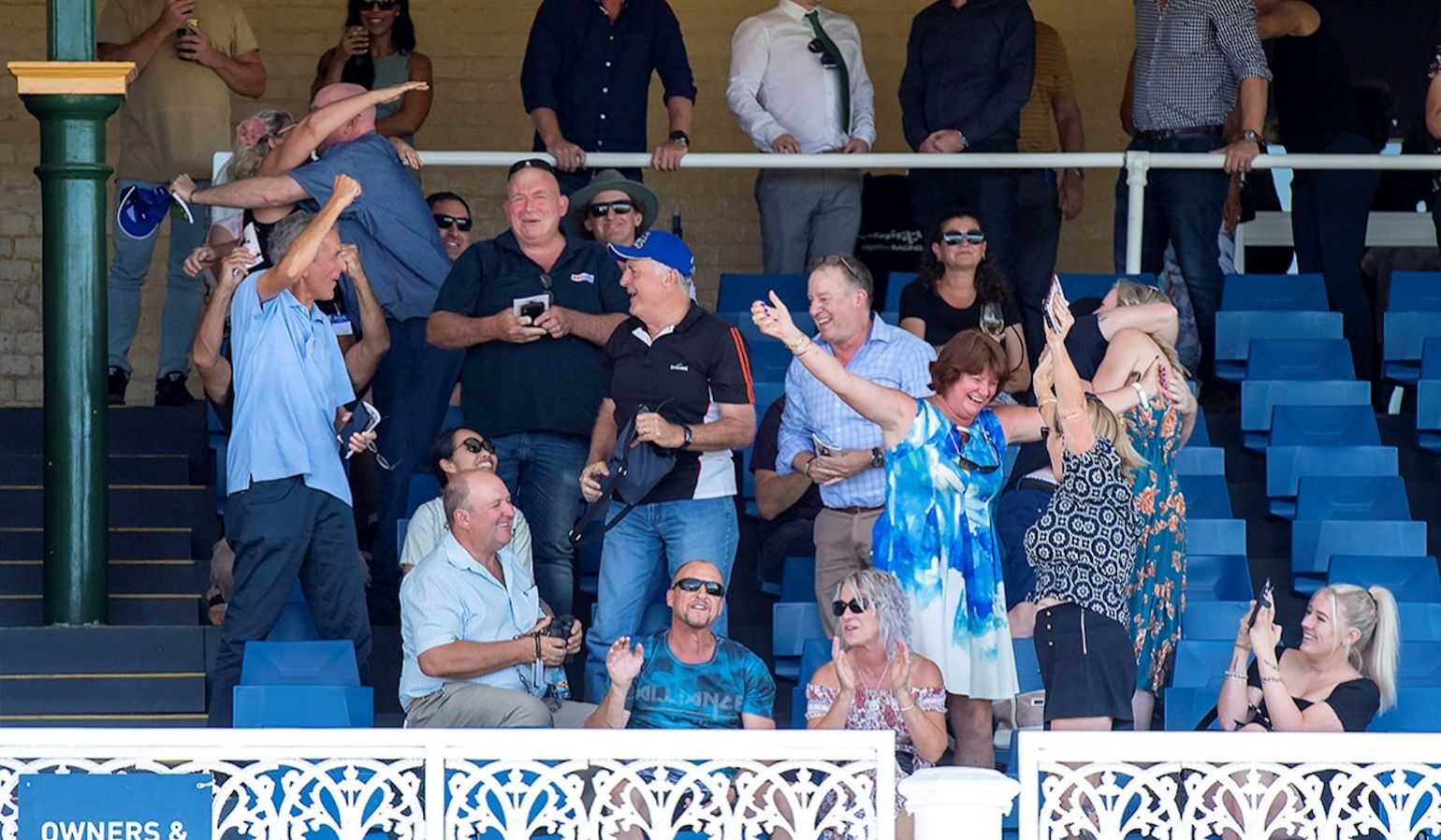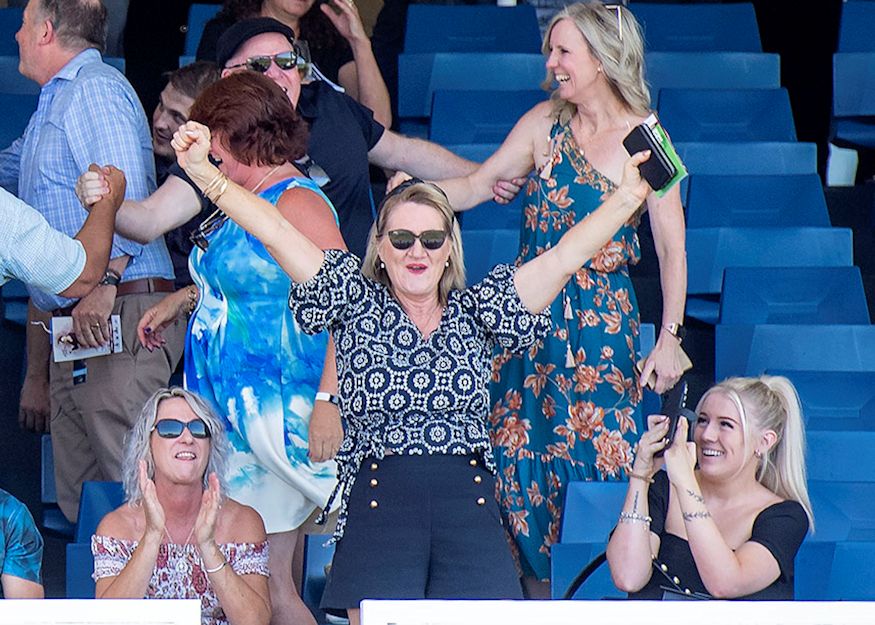 For those in the know, like those people in the photos, there's a great way to get involved as a racehorse owner, and that is by joining a professionally managed horse racing syndicate.….
I'm Peter Morley, and I've been putting people into horse racing syndicates since 1995. That's 27 years-so I must be doing something right! During that time, through the two horse racing syndication companies that I run, the Perth based Belhus Racing Stables, and the Eastern States based Grand Syndicates, I've literally given thousands and thousands of people JUST LIKE YOU-their opportunity to scream, shout and cheer on their own horse as it charges to the line, and then share the joy and excitement with them as we all get to stand proudly together in the Winners Circle. Not to mention drinks all 'round at the bar afterwards!
I'm here to show you that owing a racehorse isn't expensive. It can be of course, if you decide to be a Robinson Crusoe and go it alone, but my simple message is this:
If you want to reduce the cost, if you want to reduce the risk, if you want to share the costs and share the excitement of a win or two or three, with other like minded people, then the opportunity is there for you to join a professionally organised horse racing syndicate.
It's something I've been promoting for over 27 years now, and our typical product is a 20 share syndicate, which means that the standard share is 5%. Once you've bought your share in a horse, and our share prices start from around a couple of thousand dollars (occasionally even less), then all you're up for is a little over fifty bucks a week to cover your share of running costs. So, it's 5% of the cost, and of course you only get 5% of the prizemoney, but you do get 100% of the thrills and 100% of the excitement too! Trust me, when your horse is racing to the line and looking like the winner, the adrenaline will be pumping, and you'll be screaming and shouting and urging it on just as much as any other owner irrespective of the percentage they own…
The race track is a great leveller. It's a place where battlers and billionaires stand shoulder to shoulder and compete with their horses on an equal basis. Where else can you get a financial interest in such an exciting sport where, as an owner, you could actually get to compete against some of the wealthiest people in the World?
"I remember when our horse ran at Moonee Valley and finished second. The winner was owned by Sheikh Hamdan, and the third horse was owned by Sheikh Mohammed bin Rashid Al Maktoum-the Vice President of the UAE and The Ruler of Dubai! And there we were- a bunch of non-Sheiks in the middle. It was a great thrill!" James Downey-Melbourne.
Think of it this way. Like any other recreational pursuit, owning a racehorse will most likely cost you a bit of money. In just the same way as other hobbies such as boating, horse riding, following your favourite sports team or playing golf for example cost you money, so too do racehorses. The difference though, is that if you do buy into a good one, not only can it pay it's way, but it could easily make you money you too. And 100% tax free at that! Not many other hobbies you get involved with can do that!
"There's no greater thrill than seeing the horse that you own run past that post-winning!" Chris Thrift-Perth
Once you've bought in, at your own level of comfort, there's a maximum that it can cost. So, if you have a 5% share in a horse, it'll cost you a maximum of around $53/week. Your share of any prizemoney chips away at that weekly cost as it comes in, and always brings it down bit by bit. As an example, a win in a normal Saturday race in Perth will get you $1,866 clear, which averages out to $36/week. That return would reduce your weekly cost down to $14 week you see? That's hardly a pint of a beer in a decent pub nowadays, so you can see that it can become quite a cheap hobby.
And there's more. By taking just a small share in a horse, and of course, assuming your budget allows it, it could also give you the opportunity to invest in multiple horses which of course, then increases your chance of winning too. More action, more days at the races, more chances of winning, more chances of prizemoney, and more chances to get those all important winning photos up on your wall!
" I met Pete and he talked to me about syndication and I thought that's a better way to go about it, buy a little share rather than the whole horse. Since then I've had 85 or 90 winners so far with Belhus and they keep coming. I've actually lost count. I tell you what, if you're going to have a share in a racehorse, Karen and Peter Morley are the way to go". Geoff Baldwin-Perth.
So there you go. If you're still with me and what you've read here appeals to you, and you want get involved in a nice horse or two, then take a look at some of the syndicate opportunities we have available right here…